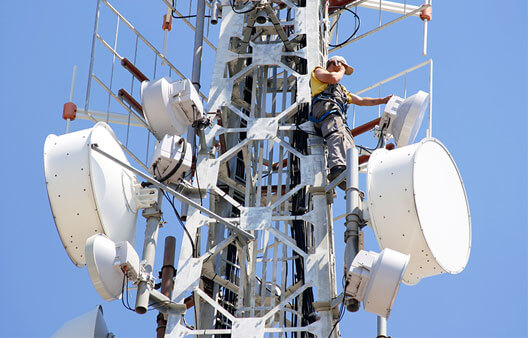 Carrier-grade mobile or Ethernet IP backhauls
Carrier-grade multipoint infrastructure networks
Higher throughput and reliability
QoS support
Seamless integration
Wide frequency range
High-capacity backhauls InfiLINK 2×2
High-capacity multipoint solutions InfiMAN 2×2
The optimal solution for carrier backhaul
Higher Throughputs. 4N Wireless solutions provide unmatched coverage and throughputs. 4N InfiNet's cost effective point-to-point solutions provide an unprecedented net capacity of up to 240Mbps over long distances in both LOS and NLOS conditions.
High reliability. Since its inception in 1993, 4N Wireless has been developing backhaul solutions tailored to fixed and mobile operators' network requirements, delivering unparalleled performance and robustness in all environments.
Best Quality/Price Ratio. 4N Wireless offers a wide selection of different solutions varying in performance and features. Combining 4N InfiNet's advanced radio technologies, MIMO (Multiple Input/Multiple Output) and OFDM (Orthogonal Frequency-Division Multiplexing), this flexibility allows customers to benefit from a single and reliable source for all their backhauling applications, supporting bandwidths from 4 Mbps to 240 Mbps on a "pay-as-you-grow" basis.
Wide Range of Frequency Bands. 4N Wireless carrier solutions support a wide selection of frequency bands ranging from 3.4 to 3.7 GHz, and 4.9 to 6.4 GHz, all on a single hardware platform.
In the fast moving and highly competitive market of telecoms, operators are not only facing the challenge of competing with low cost VNOs but are also struggling to retain their existing subscribers.
4N's high-capacity backhauls and multipoint solutions enable both wireless and wired service providers to meet their customers' growing needs for bandwidth, coverage and mobility.
In the case of a mobile operator, harsh competition as well as declining Average Revenue per Userhas created a vital need to reduce network costs while delivering robust, high quality services. Backhauling traffic from cell sites is one of their biggest challenges.
4N Wireless has the solution to this challenge, ensuring that wireless carriers have the data capacity they need for both today's and tomorrow's growing bandwidth demands. It involves the migration towards a Carrier Ethernet, with switches/routers that multiplex circuit and data traffic from legacy base stations with new, native IP traffic. Quick and easy to deploy, they provide secure voice and data connections that are completely scalable and secure, offering carrier-class reliability and total reliability in harsh environmental conditions.